News: Attadale Gardens Workshops
My friend Cindie and I are planning a few events in association with Attadale Gardens in 2020. Checkout https://www.attadalegardens.com
We're developing a programme of workshops and small exhibitions - more information over on https://lochcarronarts.com/.
The first one will be on Tuesday 17th March. Please email me if you would like more details.
Attadale Gardens Workshops
Other News
Exhibition in Edinburgh Now On
Delighted to say I'm taking part in a group exhibition in Edinburgh at the end of February. Rona Ma...
Glasgow Exhibition 29 Feb to 8 March
I'll be exhibiting in Glasgow at the beginning of March along with members of the Bridge Art Collect...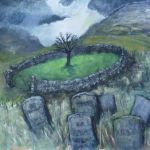 OPEN STUDIO - 6 MARCH 2020
It all seems to be happening at the one time.....I'll be in my studio in Lochcarron to welcome visit...
Previous Page
|
Next Page