News: Skye Exhibition in October
I'm one of three artists staging an exhibition in An Talla Dearg at Eilean Iarmain (Isle Ornsay) on Skye. Dates are 4th to 16th October. I'll be joining local artists Cindie Reiter and Steven Proudfoot. My work will include paintings and prints - stormy seascapes and dark hills based on sketches done in Skye, Wester Ross and Ardnamurchan. The exhibition will be on from 4th to 16th October, open from 10am to 6pm weekdays, closing at 4pm on Saturdays and Sundays. More details here http://eileaniarmain.co.uk/an-talla-dearg-gallery/ and on the Lochcarron Arts facebook page at https://www.facebook.com/lochcarrongallery/
Skye Exhibition in October
Other News
Exhibition in Edinburgh Now On
Delighted to say I'm taking part in a group exhibition in Edinburgh at the end of February. Rona Ma...
Attadale Gardens Workshops
My friend Cindie and I are planning a few events in association with Attadale Gardens in 2020. Chec...
Glasgow Exhibition 29 Feb to 8 March
I'll be exhibiting in Glasgow at the beginning of March along with members of the Bridge Art Collect...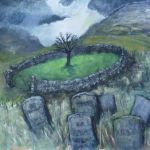 OPEN STUDIO - 6 MARCH 2020
It all seems to be happening at the one time.....I'll be in my studio in Lochcarron to welcome visit...
Previous Page
|
Next Page