News: Linocut Printing Workshop
On Sunday 18th March I'll be leading a wee linocut workshop in Lochcarron Gallery. This will be a basic introduction to linocut printing. If you haven't tried it before, please get in touch with the gallery to book a place on info@lochcarrongallery.co.uk (Facebook page at https://www.facebook.com/lochcarrongallery/)
Linocut Printing Workshop
Other News
Work at The Quay Gallery
In early May I delivered a few pics to The Quay Gallery in Aberdour, Fife. This lovely wee gallery h...
Exhibition at Balmacara Steadings
I've got a wee exhibition coming up at The Steadings Gallery, Balmacara Square, near Plockton and Ky...
2019 Desk Calendars
My desk calendars have arrived. Same format to last year's calendar. Small pics of Lochcarron, App...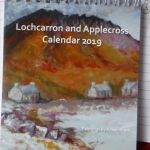 Edinburgh Macmillan Art Show
I was asked to put a pic into the Edinburgh Macmillan Charity Art Show again this year, and this oil...
Previous Page
|
Next Page