News: Edinburgh Macmillan Art Show 2017
Pleased to say that I was invited to submit to the Edinburgh Macmillan Art Show this year. This start on Thursday 24th and runs to Sunday 27th August in Bonham's Sale rooms in Queen Street. Full details here on their website http://2017.macmillanartshow.org.uk/
The picture that has been selected is my 'Whirlygigs', a photopolymer intaglio print based on a photograph of sycamore seeds. It's one of my 'Natural Selection' series. Do put the dates in your diary and go along - Art for a great cause!
Edinburgh Macmillan Art Show 2017
Other News
Work at The Quay Gallery
In early May I delivered a few pics to The Quay Gallery in Aberdour, Fife. This lovely wee gallery h...
Exhibition at Balmacara Steadings
I've got a wee exhibition coming up at The Steadings Gallery, Balmacara Square, near Plockton and Ky...
2019 Desk Calendars
My desk calendars have arrived. Same format to last year's calendar. Small pics of Lochcarron, App...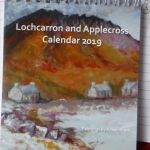 Edinburgh Macmillan Art Show
I was asked to put a pic into the Edinburgh Macmillan Charity Art Show again this year, and this oil...
Previous Page
|
Next Page